Uses of the Model
One of the most useful aspects of this display is clarification of the often-confused terms "wellness" and any of the ever-changing terms of integrative, complementary, alternative or holistic medicine"* For the most part, holistic practices are done in a treatment centered or practitioner oriented climate. This is appropriate for acute problems, but it can lead clients to become dependent on crystals, herbs, special techniques, or the authority figure using them, rather than encouraging them to take charge of their own growth. Using the wellness paradigm in conjunction with an efficient treatment paradigm in cases where treatment is required can support individuals in attaining higher levels of wellness. In such a hybrid situation, however, we need to clarify the role and responsibility of client and practitioner if we are to further the Paradigm of Connection rather than to reinforce the desire to dominate negative conditions.
The single most important determining factor in a person's ability to foster wellness is her underlying attitude. Because wellness is about self-responsibility, people who come from a dominance orientation cannot convey wellness in a very meaningful way, since dominance implies acquiescence to an external authority. From a dominance perspective, people usually act in a certain way because they think they should. This is not as effective as acting out of a belief in the inherent goodness of themselves and their clients and a heartfelt desire to help their clients make the change (e.g., finding healthy ways to nurture yourself can lead to losing weight or quitting smoking more effectively than harshly denying yourself something you crave). Forgiving ourselves when we are inconsistent is also important. Guilt has no place in the Paradigm of Connection, especially since we now know that unproductive emotions such as guilt weaken the immune system.
For a wellness facilitator to fully comprehend and operate from the foreground of the Practitioner-/Client-Oriented Continuum, a fundamental shift in the traditional relationship between healer and healee is required. Rather than the usual Parent/Child relationship that emphasizes "you fixing me up" (The Pill Fairy from above) a wellness approach operates from the assumption of connection, and looks more like a peer relationship (The Wellness Fliers).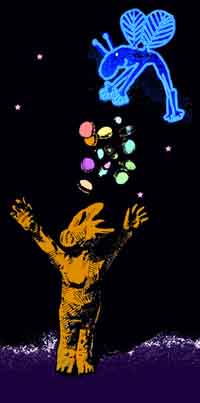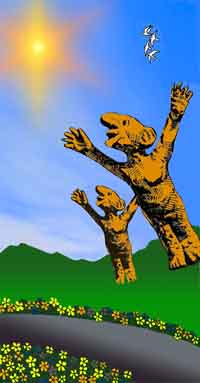 The Pill Fairy Relationship Wellness "Flyers" Peer Relationship
This focus shifts from the elimination of symptoms or disease to fostering the development of attitudes, communication skills, and lifestyles which recognizes the connections across many dimensions of being, and supports an enhanced sense of personal empowerment and wellbeing. To do this, the helping professional must be willing to relinquish the role of the expert, all-knowing authority figure that is rooted firmly in the Paradigm of Disconnection. That's a tall order for many of us and is compounded by the high degree of unconscious rescuing behavior prevalent in the helping professions.
---
* I've had countless dissenting responses, mostly from physicians holding different definitions of wellness than ours, to my belief that treatment practitioners can rarely wear both hats. My observation of most physicians is that they are unlikely to ever have a peer relationship with a patient. Having a Master's in Dominance degree myself, I'm painfully aware of the brainwashing we got in medical school. It's easy to think that we doctors can be all things to all people. In my thirty-some years of experience in wellness, I can't cite any examples of someone who successfully wears both hats on a regular basis, myself included. —JWT
---