Creating a 2-D Model
Putting the Illness/Wellness and the Atomistic/Holistic Continua together, we can make a two-dimensional grid, wherein we can place various health-oriented modalities for comparison.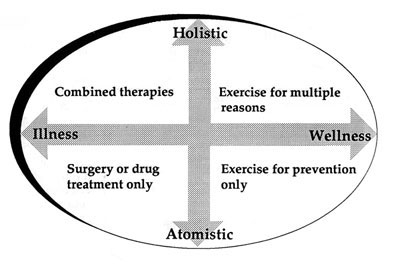 Two-Dimensional Grid
The atomistic use of bypass surgery for heart disease (with no other changes in lifestyle) would place that process in the lower-left quadrant of the grid - illness-oriented and atomistically-approached.
A holistic approach to treating heart disease with chelation therapy, dietary improvements, progressive exercise, and learning to become more heartful would place that program in the upper-left quadrant - illness -oriented and holistically-approached.
If we had no heart disease, but were using exercise to prevent it, (the grim looking runner in the Illness/Wellness Continuum Revisited), we would be exercising from an atomistic attitude, but for greater wellness, so we would place that program in the lower-right quadrant.
The holistic uses of exercise to spend time in nature, feel better, develop cardiovascular fitness, and be with friends would place the activity in the upper-right quadrant. (continues)
---