Basic Emotions
Children in all cultures evidence four basic emotions: anger, fear, sadness, and joy. These emotions blend into the whole spectrum of human feelings. Emotions may be considered separately, but it is important to understand that they are each only part of the whole of our experience. The fully alive human being is capable of feeling all the emotions. Increasing our aliveness, our wellness, means becoming aware of our feelings, accepting them as OK, and developing healthy ways of expressing them. Life would be awfully boring without the creative tension of sadness and joy that any moment may hold.
You can increase your emotional awareness if you stop and ask yourself What am I feeling?" frequently throughout the course of a day. Awareness in general can be enhanced by using any number of creative cues - signs, strings around the finger, colored dots on keys or wristwatch bands, computer screen pop-ups - that remind you of the issue that you may currently be working with.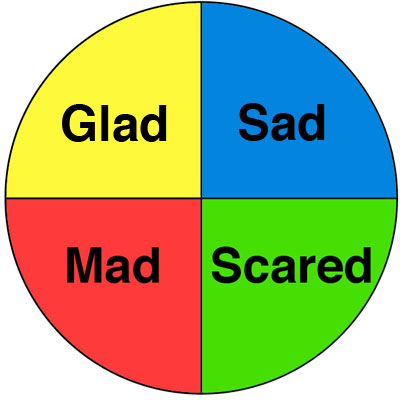 ---














Personal Wellness
Wellness is about you. It is about learning to love your whole self. It is about assuming charge of your life, living in process, and channeling life
more...

Child/Family Wellness
Honoring the heart, soul, and spirit of our children, our families, and our future. After more than three decades of pioneering work in adult wellness, and giving birth to a daughter, Siena, in 1993, Meryn and John realized that the
more...

Helping Professionals
This area consists of text from Wellness for Helping Professionals, by John W. Travis, MD, and Meryn Callander.
more...