Sensing
Sensory information (light, heat, touch, sound, odor, taste, movement, and so on) is the second form of energy input in the
Wellness Energy System
. Vast amounts of energy are received from our environment and channeled by our physical senses (and possibly through other senses that are less well understood). These energies are necessary for our protection and survival, and they serve as our most basic form of communication.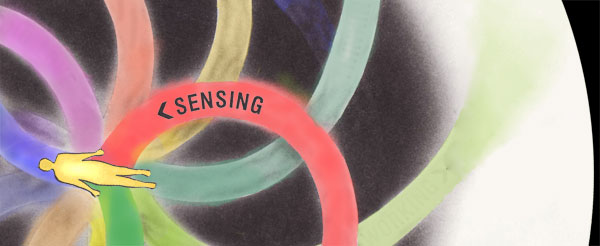 Introduction to Sensing
Stress and Cold Hands
Warm Hands and Good Health
Wellness and Temperature
Wellness and Clothing
Wellness and Water
Wellness and Ultraviolet Light
Melanomas
Natural and Artificial Light
Full Spectrum Light
Wellness, Color, and Electromagnetic Energy
Electromagnetic and Nuclear Radiation
Wellness and Scents
Aromatherapy
Healing Music and Sounds
Creative Play with Sound
The Mozart Effect
Wellness and Loud Sounds
Some Helpful Hints for a Quieter Home
Need for Touch
Fear of Touch
I Am Touched - Remembrances of Growing Up
Wellness and Massage
Communication Through Touch
Rosemary's Teaching
Healing Powers of Touch
Foot Reflexology
Acknowledgment and Recognition
Babies in Motion
Wellness and Feng Shui
Silence and Being Alone
---















Personal Wellness
Wellness is about you. It is about learning to love your whole self. It is about assuming charge of your life, living in process, and channeling life
more...

An Introduction
Meryn and John candidly share how they came to the field of child/family wellness from their background in adult wellness.
more...