Working & Playing
Playing and working are directed, focused expressions of the Wellness Energy System. The energies of thinking and communicating, enhanced by the energy of movement, combine to create a form of energy in which human beings interact with others and their environment, produce goods and services, and structure their time and, thus, their lives.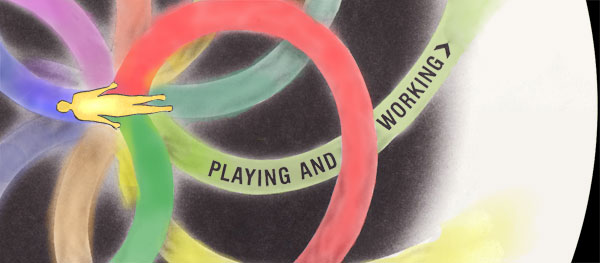 Introduction - Playing & Working
Creative Play
Learning by Playing
Nourishing Spirit
Nourishing Me
Competition, Cooperation, and Play
Seriousness
Lighten Up and Laugh
Healing Laughter
Work and Wellness
Work and Illness
Reducing Work Stress
Work, Right Livelihood, and Self-Esteem
Nurturing Play
---














Child/Family Wellness
Honoring the heart, soul, and spirit of our children, our families, and our future. After more than three decades of pioneering work in adult wellness, and giving birth to a daughter, Siena, in 1993, Meryn and John realized that the
more...

Helping Professionals
This area consists of text from Wellness for Helping Professionals, by John W. Travis, MD, and Meryn Callander.
more...

An Introduction
Meryn and John candidly share how they came to the field of child/family wellness from their background in adult wellness.
more...