Intimacy & Sex
In the Wellness Energy System, intimacy is one of the deepest forms of connection. Often it is closely related to sex as an expression of the vital life force, the elan vital, or, in Eastern philosophy, ki, or chi. It is the energy of our aliveness. Sex is also about the preservation of life - a type of communication in which the entire organism attempts to unify itself with another. It depends dynamically upon the input sources that we get from breathing, sensation, and food/fuel for its complete expression, and it is strongly modified by our energy outputs of thoughts, feelings, and messages. Sex may also serve to open us to new levels of meaning in life as well as provide experiences of transcendence.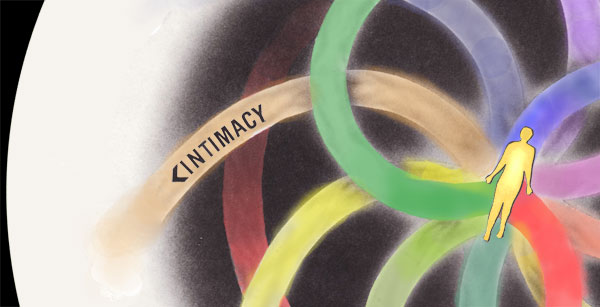 Introduction - Sex and Intimacy
Sex Education
Sex and Fulfillment
Wellness and Sexuality
Healthy Sexuality
Sexual Health
Self Awareness and Sex
Self Massage
Sexual Abstinence
Kegel Exercises
Your Mind in Sex
Sexual Relationships
Self-Responsible Sex
Sexual Orientation and Gender Identity
Definitions of Sexual Orientation and Gender Identity
Birth Control
HIV/AIDS Pandemic
Safe Sex
Responsible Sex
Sexual Abuse
Sexual Integration
Sex and Love
Sacred Sexuality
Tantra
Sex and the Planet
---














Personal Wellness
Wellness is about you. It is about learning to love your whole self. It is about assuming charge of your life, living in process, and channeling life
more...

Helping Professionals
This area consists of text from Wellness for Helping Professionals, by John W. Travis, MD, and Meryn Callander.
more...

Child/Family Wellness
Honoring the heart, soul, and spirit of our children, our families, and our future. After more than three decades of pioneering work in adult wellness, and giving birth to a daughter, Siena, in 1993, Meryn and John realized that the
more...