Wellness Wheel Example 5: Gail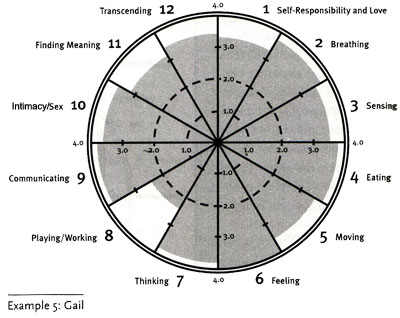 Gail's impressions: "Going to school is my life right now. If I didn't have to totally work so hard I'd be ecstatic, but I'm going to finish, no matter what! I'm not surprised that my Playing and Working score is lowest. I'm a perfectionist."
Gail's commitments: "I'm not going to change what I'm doing now. I'm committed to my education and know that I'll have other opportunities to do 'fun things' later, when I graduate. What I realized in doing this process was that I'm even harder on myself than I usually imagine. The area I want to give some attention to is in what it means to really love myself. I feel like a beginner in this department."
---