Wellness Wheel Example 4: Ramon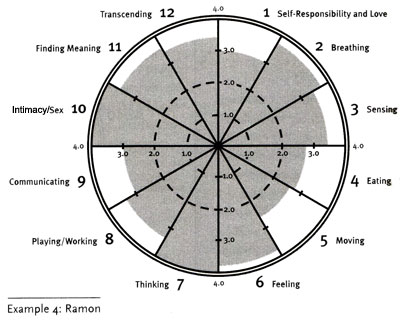 Ramon's impressions: "I just turned sixty this year and have never felt better. But, my diet and eating habits are still not to my satisfaction. I want to lose about fifteen pounds and keep it off, but all that sweating and aerobic stuff is not my thing either."
Ramon's commitments: "I have serious bouts of indigestion whenever I eat fast, or eat heavy food, especially late at night. Constipation is also a big issue for me. I know I always feel better when I eat more fruits and vegetables. I generally like fruit, but am bored by apples and bananas, which is all my wife buys. I'm going to ask her to join me in trying other types."
---