Wellness Wheel Example 2: Kate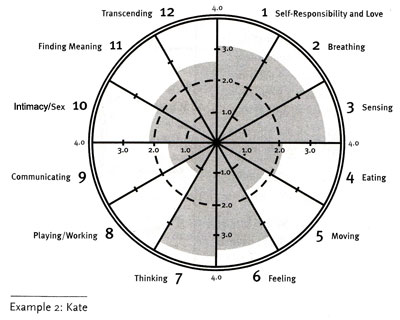 Kate's impressions: "Reading over the Transcending and Finding meaning sections of the Index, I recall how hungry I am to reconnect with my spiritual nature. Worry and fear tend to get the better of me, and I forget what I once knew about my relationship with God."
Kate's commitments: "I've been saying for years now that I wanted to get back into painting again. This art form has always been a food for my soul. I am praying when I am painting. When I'm fed in this way my worry and fear are so much less, and all other aspects of my life are better handled. I've been trying to meditate, but I'd much rather be painting. I'm going to start clearing a spot for myself in the garage, and setting up a studio again."
---