The Wellness Wheel
The Wellness Wheel is a graphic way of representing the Wellness Energy System: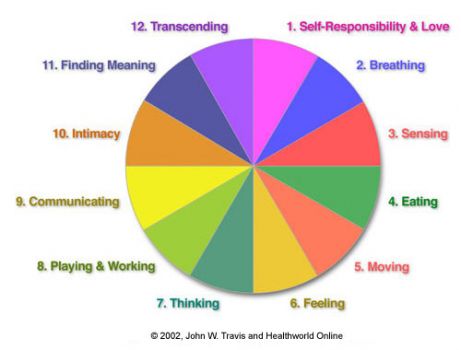 Generic Wellness Wheel
Each of the twelve sections of the Wheel corresponds to one of the arrows in the Wellness Energy System, and to a whole section of this text. Each section represents one slice of the whole Wheel.
When you complete the Wellness Inventory Online, you will be presented with a Wellness Wheel that gives you a simplified graphic representation of your personal energy system. You will be able to see how balanced your wheel is, those areas where you're doing really well, and those where you could make some improvements.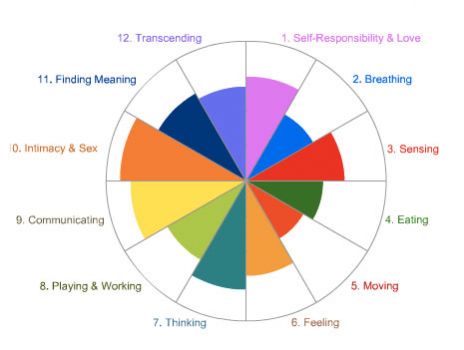 Wellness Wheel Sample Score
The program also automatically tracks the questions for which you gave yourself low scores, along with the level of satisfaction you indicated with each response. Combining this information allows it to give you a list of the areas where you gave yourself low scores along with a strong interest in changing them.
[Image: Sample lists]
The program will then guide you through a process of prioritizing the issues to find the ones you're most interested in addressing. This information allows it to help you develop a personal wellness plan.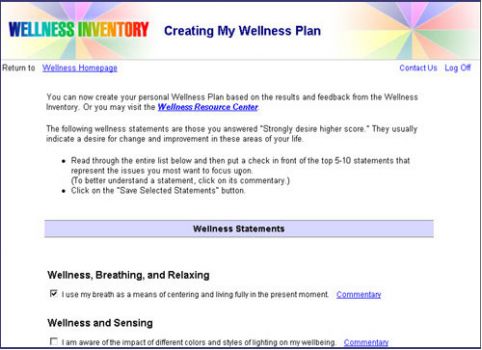 Sample Personal Wellness Plan
Beginning where your energy and interest is, rather than where you think you should," is the best guarantee of your making real and sustainable change. Successes in this area are likely to generate interest in your tackling more challenging areas later on.
In summary, we have shown how the Wellness Energy System is our alternative to the usual piecemeal way of looking at health. We offer an integrated overview of all human life functions, seeing them as various forms of energy. The harmonious balancing of these life functions results in good health and wellbeing. Taken together as a whole, our picture can be no smaller than the whole planet.
---